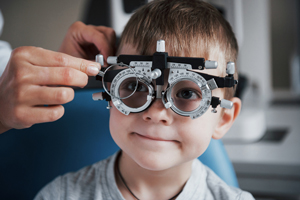 Pediatric ophthalmology is a branch of medicine which specializes in children's eye care. Doctors in this specialty are referred to as pediatric ophthalmologists. Some of the eye exam tests performed in children include:
Vision assessment-various methods are used to check a child's visual acuity and are based on the age of the child.
Determination of refractive error
This test is done to determine the need for glasses in children; the test is performed after pupil dilation to determine the exact measurement.
Motility Examination
This is a measurement of alignment of the eyes for planning treatment of strabismus (misalignment of eyes).
Biomicroscopy and dilated fundus examinations
These tests are done to investigate the presence of any eye diseases associated with systemic diseases such as diabetes, genetic abnormalities, etc.
Some of the treatments provided in pediatric ophthalmology include prescriptions for glasses or contact lenses and treatment for eye infections, inflammatory conditions or glaucoma. Surgical procedures for the treatment of blocked tear ducts, muscle surgery for strabismus, pediatric cataract extraction and use of intraocular lens can also be performed by a pediatric ophthalmologist.
Related Topics